Script Name: Investment Pro (the name will be necessary if you want to purchase this script)
Our bitcoin investment script was built to fill the gap between bitcoin trader and investors.
This script can be used as a high-yield investment program (HYIP), or otherwise.
If you are into forex trading or crypto trading and you want people to invest with you, for a daily fixed interest rate, then our bitcoin investment script will be a perfect idea.
On this script, your investors will deposit directly to your wallet in Bitcoin, Ethereum, or perfect Money. All deposits made will be store in USD.
The bitcoin investment script does not only support Bitcoin, there are options of Etherium and Perfect Money. All combined together in one umbrella.
It is a platform where people can come and invest their BTC, ETH or Perfect Money and get daily returns. At the end of the investment period the investor can withdraw their fund or reinvest.
The script is a wallet on its own, this means the investors can choose to store the crypto on the current exchange rate. Every money stored on the script will not be exposed to the fluctuations of bitcoin, as it is stored in USD.
The script is built with three unique packages for the investors to choose from. The packages are customisable buy the administrator.
Features of Bitcoin Investment Script
The script supports deposits via Bitcoin, Ethereum and Perfect Money.
Fully mobile responsive with an amazing interface on the user and admin dashboard.
Free attractive front end design with pre-built pages.
Easy user registration, the script comes with a very simple registration form that won't stress the users, email is received by the investor automatically after registration.
Every registration must await admin verification. This gives the admin privilege to manually verify each user to avoid spamming.
Admin unique login URL. This will help prevent hackers from knowing the actual link to run their brute-force.
Three different investment plans, which can be fully customised by the admin, base on the daily percentage returns and total investment period.
Admin can cancel any investors investment if he so wishes to.
Admin can manually credit or debit the investors' wallet balance.
Investors updates their Bitcoin wallet address, Ethereum wallet address, and Perfect Money address, anytime time they wish to.
Investors can choose to store their money on the platform in the United States Dollar, in other not to be affected by the fluctuations in the crypto world.
Investors can choose to withdraw their money straight into their BTC, ETH or PM wallet without any delay. It's only for the admin to approve of it.
Before withdraw can take place the Investors must be verified to withdraw by the admin. On default, the Investor will have to upload a means of identification.
Every investor has a unique referral link which if new users register from, the referral will receive a commission which will require admin confirmation.
Every investor can see the list of people they referred and those that registered via their link.
Better optional security with 2fa, integrated with Google Authenticator.
Bitcoin QR Code for an easy deposit from mobile phone BTC code scanner.
Unlimited users, there is no limit to the numbers of users this script can accommodate.
User to admin messaging window and vice verse.
Full mailer, we integrated a complete mailer into this script. Which the admin can use to email users and non-users. In fact, it can be used for digital marketing.
This script is still open for further customization if you need some special features added to your copy of the script that will not be an issue, as long as you can meet the requirements.
Who Needs The Bitcoin Investment Software
Investment agencies
Web developers
Students on a related project
Crypto traders
Contribution agencies
View Live Demo
Bitcoin Investment Script Details
| | |
| --- | --- |
| Admin Username | [email protected] |
| Admin Password | admin123 (you can change it) |
| Admin Login URL | /admin/c2wadmin/signin.php |
| Customers Login URL | /users/form/signin.php |
| Languages | HTML, PHP, MySQL, JavaScript and Bootstrap |
| Database Location Folder | /config/db |
| Contains | 2,779 Folders/Subfolders |
| Download Type | Zip file |
| PHP Version | 7 |
| Download Size | 214mb, 90mb zip |
| Status | Tested and working perfectly online and offline |
If your download is requiring a password, that means this script has exceeded the maximum number of free downloads. In this situation, you will need to provide the download password in other to gain access to download the script.
Script password cost ₦120K or $300
To get the password, simply chat us up on WhatsApp or give us a direct call on +2348035606050.
We also accept Payment Bitcoin

We can also help in the installation and further customization.
NEED A WEB DEVELOPER?
CALL: +2348035606050
WHATSAPP: +2348035606050
Server Requirements
Shared hosting or Virtual private server (VPS)
PHP 7 or higher
The server must support MySQL
The script works fine on domain and subdomain
How to install this bank script
Download the file.
Unzip the file.
Unload the file to your control panel or localhost.
Create a database for the script.
Create a database user and set a password for it. If you are on a local server the user and password will be on default.
Add the database user you created to the database you created, and grant all privileges to the user. This is also for those on live server.
Go to your phpMyAdmin and import your script database file to your database (the file will be found in the /config/db folder in the file you downloaded)
Edit the configuration file to your server information (edit database name, database user and database password, it will be found in /config/database.php)
Create webmail which will be responsible for sending all automatic emails.
Use your web browser to locate the site URL.
Login to your admin of the script, go to the settings, add the webmail you created, site name, logo and other necessary information.
Although we have done a thorough scan of all files on our platform, we still insist you perform a scan on every file downloaded from the internet with updated antivirus software.
Enjoy…
More Images Below
Font-end image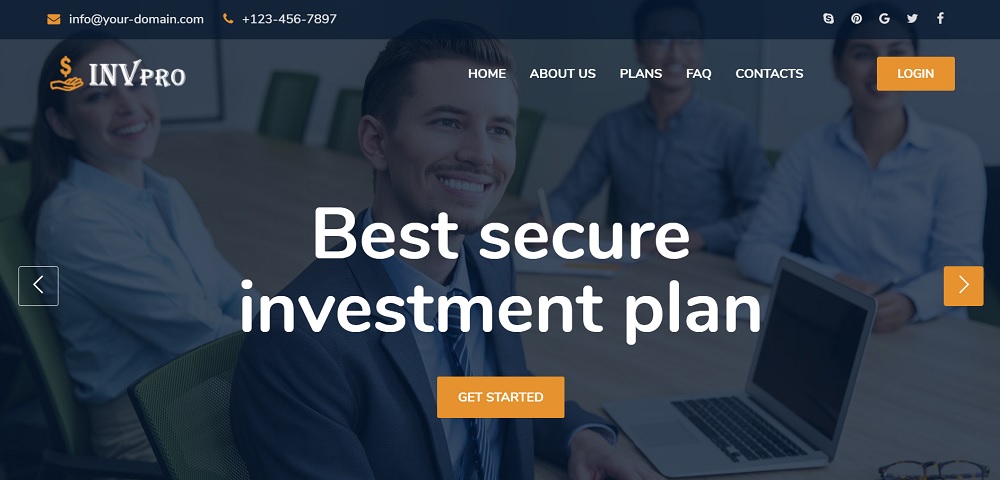 Users' dashboard image
Admin dashboard image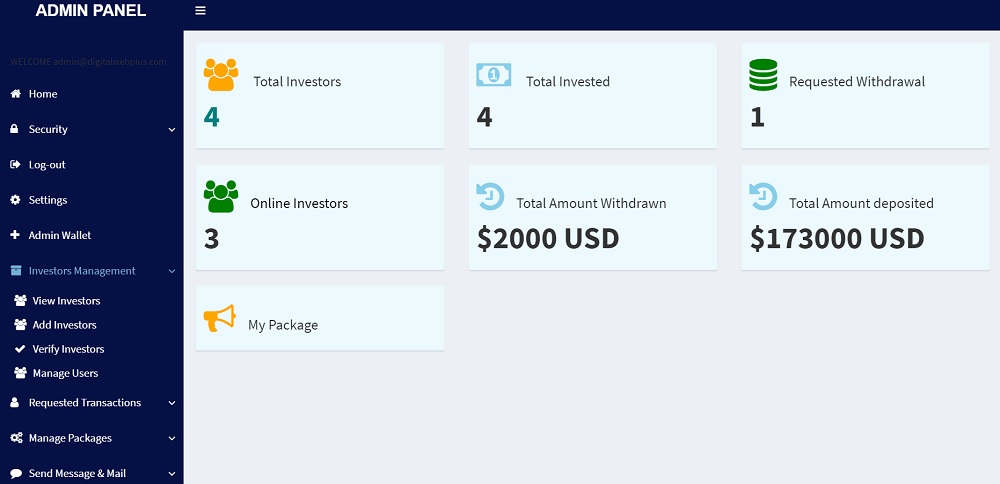 Other Awesome Scripts